Fiber Solutions for Multi-Building and Campus Applications
Customized to meet the needs for your specific application.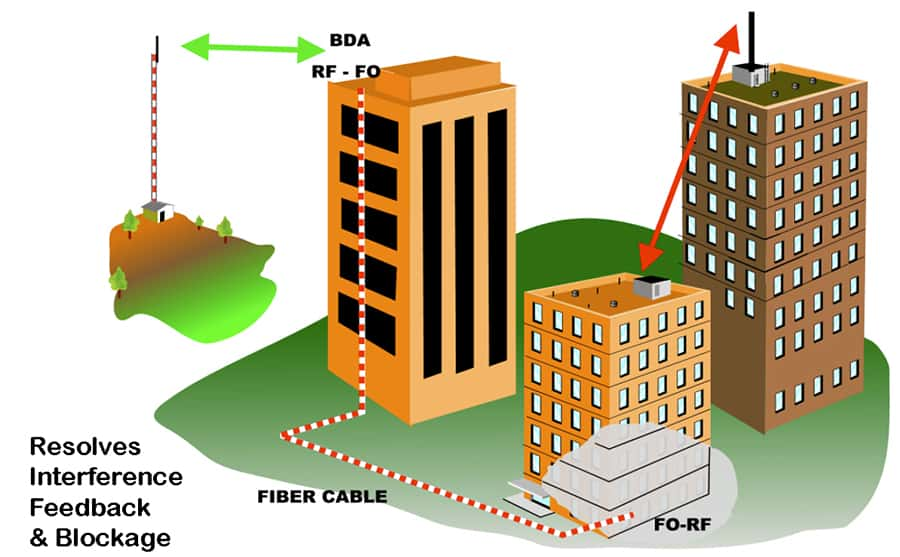 Overview
Active Distributed Antenna Systems (DAS) are advanced wireless communication solutions designed to enhance and extend coverage within large indoor and/or outdoor areas. G-Wave's active DAS uses signal conversion and amplification techniques to ensure efficient and reliable signal distribution. Our team has engineers who determine the network of remote units and strategically place them throughout the coverage area. These G-Wave remote units receive, convert, and amplify signals before distributing them to antennas, providing strong and consistent connectivity for multiple mobile devices simultaneously. One of the key advantages of G-Wave's active DAS systems is their ability to support multiple frequencies and wireless technologies, making them versatile and future-proof solutions.
G-Wave's active DAS equipment can accommodate a wide range of applications, including stadiums, airports, shopping malls, hospitals, and other large venues with high-density user demands. By actively managing and optimizing signal distribution, G-Wave's active DAS systems offer improved signal strength and reduced interference. Their ability to support multiple frequencies and technologies, along with their efficient signal distribution capabilities, make them an essential component of modern wireless communication infrastructure.
We are the leading entirely USA based manufacturer specializing in custom designed solutions. If our standard line does not quite match your specifications, we have the ability to custom design a solution to suit each unique project. Please refer to our Custom BDA Form to begin formulating your performance objectives and e-mail a completed copy to info@gwaverf.com.
Seamless Communication When Every Second Counts!
Join G-WAY Solutions in revolutionizing wireless communication for first responders by investing in our high-performance, high-reliability devices that eliminate signal loss and delay during emergencies. With our in-house design and manufacturing capabilities, we offer efficient, cost-effective Public Safety coverage solutions with industry-leading lead times. Don't compromise on the safety of those on the front lines – explore our off-air public safety solutions today!